In Memory of Bob Saget: May 17, 1956 – January 9, 2022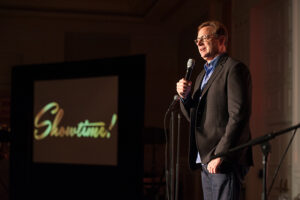 We mourn Bob Saget as a father, a friend, a comedian, and as America's favorite television dad – but we also mourn him as a philanthropist who helped numerous charities and nonprofit organizations with fundraising and awareness efforts. We were lucky enough to be among the causes close to Bob's generous heart at Valley Village.
Valley Village is a nonprofit organization that provides family-style residential housing and day program services for 400 women and men with developmental and intellectual challenges. The organization was founded in 1971 by a group of parents who worked to create a better future for their children and others. At that time, the only available housing options for people with intellectual and developmental challenges were institutions and nursing facilities for seniors. Valley Village's founders believed in something better. Their work led to the creation of family-style group homes where the questions asked at the outset of every project was "Would this be a home I would want to live in?" Valley Village's programs and person-centered approach help each person we serve to live as independently as possible.
Bob Saget's family was involved in the creation of Valley Village from the very beginning. His cousin Joan Freeman and her husband Joe were among the families who believed in a better life for their children – among them, Bob's cousin, who still both resides in a Valley Village home and attends Day Program at Valley Village's Adult Development Center.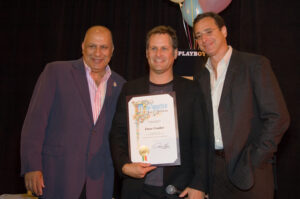 In 2003, Bob worked with Valley Village to create a new fundraising event – Showtime! The idea was to throw a comedy luncheon to raise awareness and funds for Valley Village Programs and the people Valley Village serves. Under Bob's guidance, the event was produced annually and grew to become a mainstay of our fundraising efforts for the next 16 years. Bob served as Master of Ceremonies of Showtime! from 2004 to 2016. He entertained attendees and recruited fellow comedians who volunteered their time to perform at the event. Even when the demands on his time increased, and he could no longer attend the event personally, Bob was still involved. He helped to identify comedians to perform and volunteer their time to Valley Village, including his fellow comedian Sunda Croonquist who took over as the Master of Ceremonies. He pre-recorded personal videos for the event and continued to encourage participation from his colleagues. Some comedians that Bob brought to Valley Village over the years include Louis Anderson (2005), Dave Coulier (2006), Carlos Mencia (2007), Sunda Croonquist (2008), Fritz Coleman (2009 and 2018), Jim Tavare (2010 and 2012), Tom Dreesen (2011), Jeremy Hotz (2013), James Harris and Eric Schwartz (2016), Danny Jolles (2017) and Tehran Von Gashri (2019).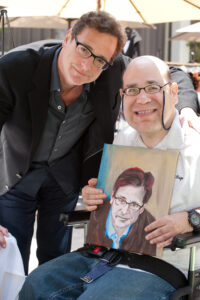 Bob's work and dedication helped Valley Village enrich the lives of the people who rely on its services. He raised awareness about our organization and the needs of our clients. Everyone who met him through Valley Village events experienced his kindness and authenticity.
He will always be a member of the Valley Village family, and Valley Village is forever grateful to Bob and his commitment to our mission.
Donations in Bob's memory can be made at valleyvillage.org/donate
Bob Saget Congratulating Valley Village on 50 Years of Service to the Community
For media inquiries, please contact Matthew Swearman, Senior Director of Development and Donor Relations at Valley Village.
Email: Matthew@vvc.org
Mobile: 818.307.1038