Valley Village Pot of Gold Monthly Giving Club
The Valley Village logo is a rainbow; with the help of monthly recurring donors, we can find a pot of gold at the end of it!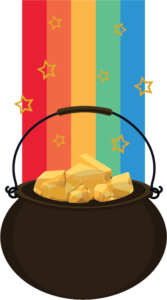 Valley Village established the Pot Of Gold Club in 2023 as a monthly recurring giving program for your donors to help sustainably fund programs for adults with developmental disabilities. When you set your donations to recur monthly, you help us plan our activities and programs like Super Saturday, Community at Large, and more!
When you donate $10 per month or more, you're helping us continue our work to protect, foster, develop, and advance the rights and interests of people with developmental disabilities. Monthly donations help us plan enrichment activities at our day programs and homes; when selecting locations for Super Saturdays, we often need lead time to research places with ADA parking, and a budget for tickets, and our day programs need to replenish supplies for enriching activities constantly!
Go to the donation form using the link to become a monthly donor, select your monthly recurring donation amount, and select recurring donation for the donation type. Complete the donor form with the required information, and submit your donation for processing. It will be processed on the same date each month.
With an automatic monthly recurring donation of $10 or more, you'll receive a personalized thank you card from Valley Village clients, one piece of artwork per year made by a client, a dedicated Pot Of Gold staff member to answer any of your questions, invitations to all Valley Village events, and a year-end summary of your donations.
Here are examples of how your monthly recurring donations support Valley Village program participants and residents:
$10 Per Month – Art supplies for one client per month to fuel creative expression! This includes modified supplies for adults with disabilities, such as safety scissors and extra-thick grip paintbrushes.
$25 Per Month – Funds our monthly drum circle with the Wahlbangers for two clients. The drum circle is great for hand-eye coordination, listening skills, team building, creative expression, and it's FUN!
$50 Per Month – Gardening supplies for clients to sustain our raised beds at our Winnetka and Sunland programs and our community garden plot at Balboa Park. Clients plant and tend to their own flowers, fruits, and vegetables.
$100 Per Month – Sends seven clients each month to exciting, enriching, community-based activities like the Natural History Museum of LA, the El Capitan Theater, the Nethercutt Collection, and more!