Valley Village operates Adult Development Centers and Adult Day Health Care Centers. The curriculum of the day programs includes speech therapy and communication skills training, a computer lab, sensory integration training, vocational skills training, physical therapy and gross motor exercises, art and ceramics classes, daily living skills training, and community outings. Valley Village provides transportation to our clients for outings.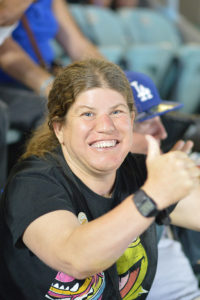 The East and West Valley Adult Day Centers host an expanded program featuring a variety of activities for clients who may function at more independent levels. These activities include traditional disciplines such as motor skills development, life skills, and arts and crafts.
The Adult Day Health Care Centers, one in Winnetka and the other in Sunland, offering day activities to medically fragile clients. The programs at these centers include sensory stimulation, physical fitness, speech therapy, nutritional counseling, occupational therapy, and medical and nursing services.
Valley Village also offers an After School Program for adults at the Winnetka location. This program allows working parents and caregivers a safe and nurturing place for their disabled adult children to stay after the day programs end and until their work day comes to an end.
We are proud of our programs and would be honored to offer you a tour. Please contact us to arrange a date that is convenient for your schedule.