Saturday, June 22, 2019
Airtel Plaza Hotel, San Fernando Valley Purchase Tickets Here
Valley Village's Showtime! event raises critical funds to support therapies, community-based outings, capital items like lifts and durable medical equipment, and core support needed to fulfill Valley Village's mission to protect, foster, develop and advance the rights and interests of people with developmental disabilities.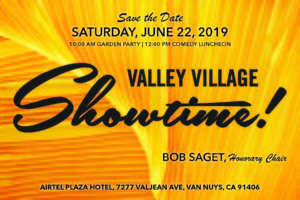 Comedian and Actress, Sunda Croonquist returns as host for this year's Showtime! along with comedian Tehran. Musical guests Megan McIver and Terence Deutsch will perform for us at the garden party. Thank you to Honorary Chair Bob Saget and Chair Marla Kort another great year of leadership, entertainment and prizes.
Showtime! is Valley Village's annual comedy show, luncheon and garden party, live music, drawings and auctions;  benefiting 400 individuals with developmental challenges.