Say hello, and please give a warm Valley Village welcome to Valley Village's newest instructor, Bryan Justo Espinal Acosta! Bryan began working at Valley Village in August 2022 as our new day program Photography Teacher. We sat down with him to find out what he's excited about in his new role, ask a few getting-to-know-you questions, and learn some fun facts about him!
Please tell us a little bit about your background!
I grew up in Huntington Park in Los Angeles. I attended Cal State Northridge, where I studied photography and liberal studies. I graduated in 2020 and have been freelancing ever since, working in photography with many different kinds of clients.
What drew you to Valley Village?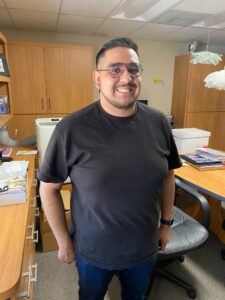 One day, I want to become a professor and teach at the university level, but before I go on to get my master's degree, I've always wanted to teach all kinds of students. Valley Village offered me an incredible opportunity to be a teacher. It's been very fun, and this is the best job I've ever had! I've worked at a nonprofit before (at the YMCA), and I'm so excited for what the future holds here – for both me and our clients.
What is your favorite thing about photography?
Photography teaches people how to think creatively. It's not only taking nice pictures of your family and your friends! It's about finding something unique to take photos of, and you may even surprise yourself with what you feel drawn to shoot. For example, if you're looking at a tree, you may want to shoot a particular line in a branch or close-up a leaf instead of the whole thing. It's a way of thinking in the abstract and looking at the world differently.
What do you hope our clients take away from learning about photography?
For our population at Valley Village, I think art is something that opens the mind and always, always encourages conversation. Art is something that teaches you how to communicate thoughts and feelings in addition to opinions: art teaches you how to talk about why you like or respond to something beyond a simple statement like "I like it." With nonverbal clients, something like photography helps us communicate with them when we see the work they do and the things they want to show us. I think art is something that helps with communication on all levels.
Tell us some fun facts about yourself!
I lived in Wyoming on a ranch for three months! I used to be a swimmer, and I also used to coach a pre-Olympic team at the Rose Bowl Aquatic Center.