April is Occupational Therapy Month, and it's an appropriate time to share how the profession helps Valley Village's residents and program participants to live independently as possible.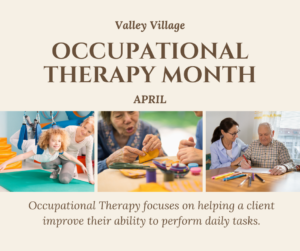 Occupational therapy (OT) uses assessment and intervention to develop, recover, or maintain the meaningful activities, or occupations, of individuals, groups, or communities. It is an allied health profession performed by occupational therapists and occupational therapy assistants (OTA).
Cindy is an Occupational Therapist, and she's worked with Valley Village residents since 1984. Much of the curriculum Cindy employs is self-created best to meet the needs of Valley Village's residents. The curriculum is designed specifically for people with developmental and intellectual disabilities and helps them live independently as possible.
Cindy works with residents on daily living skills that include self-care, hygiene, feeding, and homemaking skills such as laundry, doing the dishes, and light cooking. Her work collaborates with the care providers to ensure connection to the work they are doing with residents. The coordinative relationship helps the residents achieve their goals because Cindy and the care providers' work is in sync. Cindy explains, "We coordinate and collaborate on goals so the care providers can incorporate specific skills into the natural flow of each day." Their efforts help each person achieve their best results.
Community goals are another area of focus for Cindy's work with Valley Village residents because they support Valley Village's community-based programs. Valley Village Day Programs, the residential program, and the recreational program take program participants and residents into communities for various enrichment and educational opportunities. Additionally, community members, volunteers, and local business leaders have opportunities throughout the year to engage with participants and residents through various activities in all three programs. Community goals include social skills and basic finances. She helps residents know how much things cost and what they can afford in their budgets. She uses games to help them learn counting and budgets. She helps to develop and maintain social skills. Care providers help reinforce what residents learn with community trips to stores or places they enjoy, like going to the movies or going for personal services like haircuts or the nail salon.
Cindy's work includes the arts, such as helping residents learn to make birdhouses, models, and crochet.
"I've worked for a long time with the residents, and I have seen them throughout their lives. The residents, their families, and the care providers have become extensions of my family."