The Valley Village logo is a rainbow, and with the help of monthly recurring donors, we can find a pot of gold at the end of it!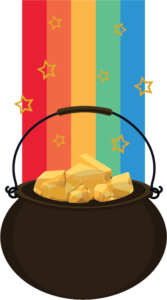 We are so excited to launch Valley Village's brand new monthly giving opportunity – our Pot Of Gold Club! When you sign up as a monthly recurring donor, you're helping us continue our work to protect, foster, develop, and advance the rights and interests of people with developmental disabilities. One of the biggest advantages to donating monthly? You're helping us get a head start on planning activities for programs like Super Saturday and Community at Large.
One of the challenges in planning activities for these programs is the amount of lead time we need to research. It's not only ticket prices and the logistics of accommodating large groups with a population like Valley Village – we also need to look into nearby options for ADA parking, bathroom accessibility, and more. Monthly giving helps us plan activities in advance, which gives our clients time to look forward to what's coming next! Our day programs also offer activities that require supplies that are in constant need of replenishment; monthly giving helps our program coordinators set their activity plans and calendars, too!
Here's a look at what we can do with monthly giving amounts. As you can see, even a little goes a long way here at Valley Village!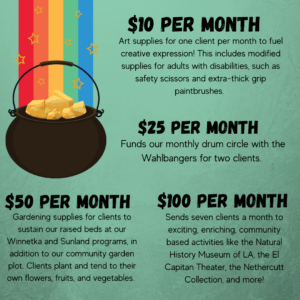 Excited to sign up? Want to learn more? Head on over to this page to sign up and get additional information! You'll learn more ways that your that your monthly donation helps adults with developmental disabilities to live as independently as possible – and for the benefits you'll get, too! A personalized thank you card from Valley Village clients, one piece of artwork per year made by a client, a dedicated Pot Of Gold staff member to answer any of your questions – these are just a few things in store for you when you join Pot Of Gold Club.
Sign up today, and remember, you can give a little or you can give a lot! Any recurring amount of $10 a month or more gets you access to the benefits of Pot of Gold Club. We can't wait to welcome you as a member!